<! SECOND COLUMN BEGINS HERE>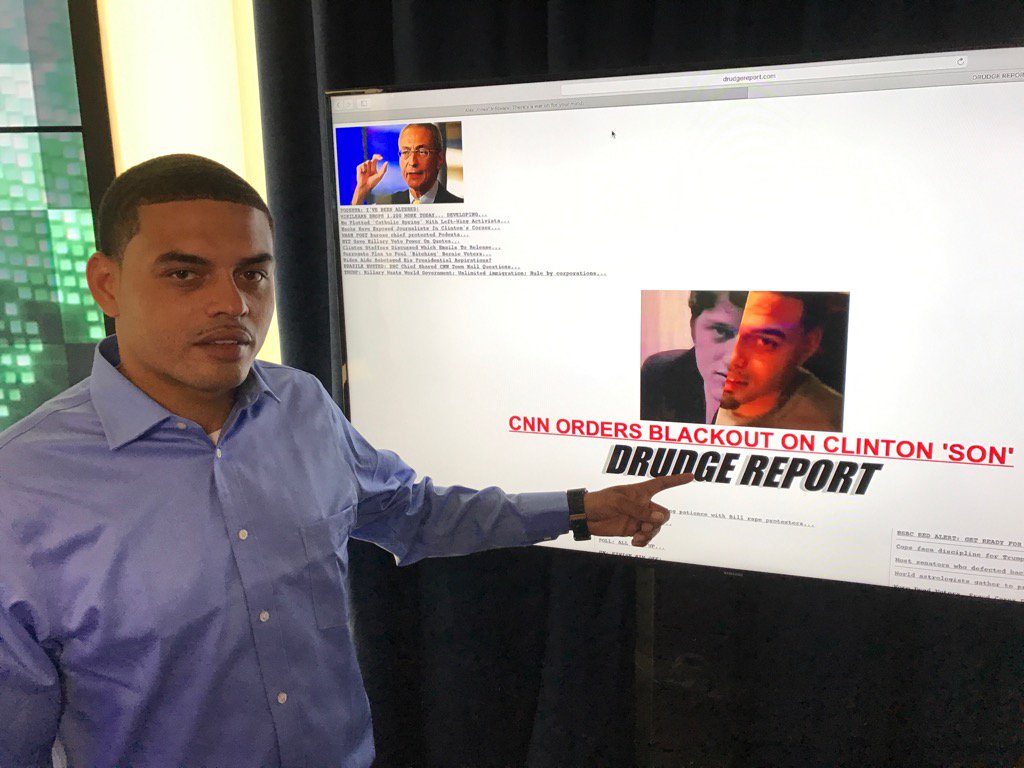 CNN ORDERS BLACKOUT ON CLINTON 'SON'...
DANNEY ASKS: BILL STEP UP, HILL STEP ASIDE...
IGNORED...
---
POLL: CLINTON +4
POLL: ALL TIED UP...
Pentagon eyes election control oversight...
UN: FINISH HIM OFF!
---
'Vast majority' of career FBI, DOJ agents wanted Clinton charged...
Emails shine new light on Cheryl Mills' conflicts...
---
Corrupt Govt Officials Tops American Fear List...
---
U.S. Navy destroyer again targeted by missiles from Yemen...

Iran-aligned rebels...
---
REPORT: Russians Told To Immediately Bring Back Children Abroad...
Moscow tests ballistic missiles...
Kerry threatens cyberattacks...
LAVROV: 'So Many Pussies' on Both Sides of U.S. Election...
---
Fashion icon Vivienne Westwood savages 'evil war mongerer' Hillary...
UPDATE: Arms dealer says Obama made him scapegoat on Libya to 'protect' Clinton...
---
YEAR OF WARREN AND ANNETTE...
Best Actress Category Has Never Locked Up This Early...
---
San Fran tech titans bankroll bid to ban homeless camps...
Crime wave hits Central Park; Robbery crews...
LA Residents Fed Up With Growing Trash Piles; Homeless Pop Jumps...
---
BMW Intelligent Motorcycle...

Self-Balancing, Drive Without Helmet...
---
Scientists reveal plans for first 'space nation'...
Moon Craters Appearing Far Faster Than Thought...
Hazards to future lunar settlements...
---
<! L I N K S S E C O N D C O L U M N> WABC RADIO...
WOR...
KFI: LA...
WTOP: DC...
---
ABCNEWS NOTE
FOXNEWS FIRST
POLITICO PLAYBOOK
POLITICO MORNING MEDIA
GERARD BAKER: 10-POINT
CNN: RELIABLE SOURCES
MSNBC FIRST READ
NYT: FIRST DRAFT
TIME: MUST READS...
WASH POST: THE DAILY...
---
REALCLEAR POLITICS POLLS...
---
3 AM GIRLS
JILL ABRAMSON
CINDY ADAMS
BAZ BAMIGBOYE
DAVE BARRY
FRED BARNES
MICHAEL BARONE
GLENN BECK
PAUL BEDARD
BIZARRE [SUN]
GLORIA BORGER
BRENT BOZELL
DAVID BROOKS
PAT BUCHANAN
HOWIE CARR
MONA CHAREN
CHRIS CILLIZZA
RICHARD COHEN
JOE CONASON
[NY DAILY NEWS] CONFIDENTIAL
DAVID CORN
ANN COULTER
CRAIG CRAWFORD
JIM CRAMER
STANLEY CROUCH
MONICA CROWLEY
LOU DOBBS
MAUREEN DOWD
LARRY ELDER
JOSEPH FARAH
SUZANNE FIELDS
FISHBOWL, DC
FISHBOWL, NYC
ROGER FRIEDMAN
JOHN FUND
BILL GERTZ
JONAH GOLDBERG
ELLEN GOODMAN
GLENN GREENWALD
LLOYD GROVE
HANNITY
STEPHEN HAYES
NAT HENTOFF
PEREZ HILTON
HUGH HEWITT
CHARLIE HURT
LAURA INGRAHAM
INSIDE BELTWAY
RICHARD JOHNSON
ALEX JONES
MICKEY KAUS
KEITH J. KELLY
JOE KLEIN
KRAUTHAMMER
KRISTOF
KRISTOL
KRUGMAN
LARRY KUDLOW
HOWIE KURTZ
BOB LEFSETZ
MARK LEVIN
DAVID LIMBAUGH
RUSH LIMBAUGH
RICH LOWRY
MICHELLE MALKIN
DANA MILBANK
PIERS MORGAN
DICK MORRIS
PEGGY NOONAN
BILL O'REILLY
PAGE SIX
CAMILLE PAGLIA
ANDREA PEYSER
JIM PINKERTON
BILL PRESS
WES PRUDEN
REX REED
RELIABLE SOURCE
RICHARD ROEPER
BETSY ROTHSTEIN
JIM RUTENBERG
MICHAEL SAVAGE
SCHLAFLY
LIZ SMITH
MICHAEL SNEED
THOMAS SOWELL
BRIAN STELTER
MARK STEYN
ROGER STONE
TAKI THEODORACOPULOS
CAL THOMAS
BOB TYRRELL
TV NEWSER
JEFF WELLS
WASHINGTON WHISPERS
GEORGE WILL
WALTER WILLIAMS
JAMES WOLCOTT
MILO YIANNOPOULOS
BYRON YORK
BILL ZWECKER
---