<! SECOND COLUMN BEGINS HERE>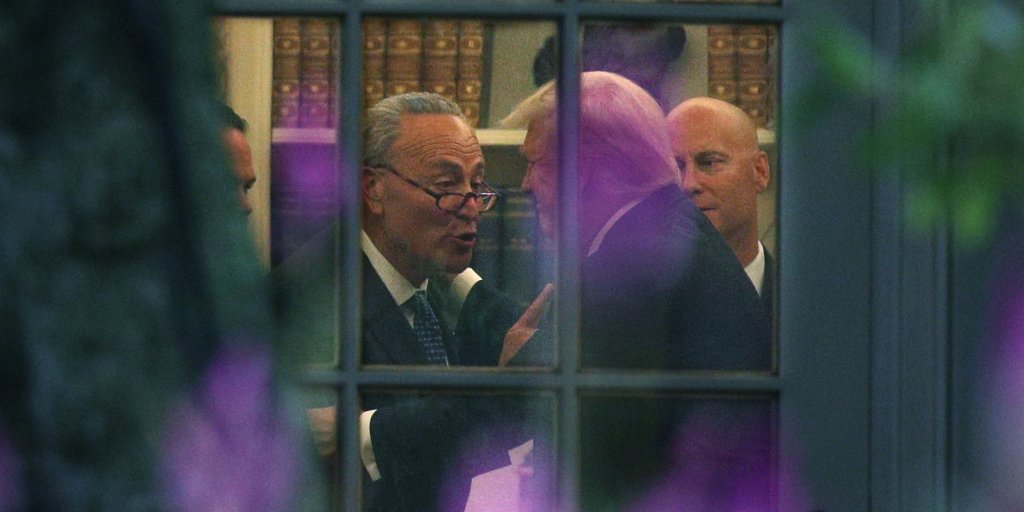 TRUMP PRAISES PELOSI, SCHUMER...
DEBT, SPENDING, DREAMERS!
KIND WORDS FOR DEM SEN IN TAX PUSH...
REPUBLICANS SEETHING...
---
15 states sue president on rollback of immigrant protections...
---
GOLDMAN CEO 'UNNERVED' BY MARKET...
Fed Fischer Resigns...
WSJ: Cohn no longer likely to be nominated for Chairman...
---
Iran Spies Threaten, Blackmail Media Outlets...
---
Menendez trial focuses on meaning of friendship...
Cory Booker sits front row for bribery case...
Judge to defense lawyer: 'Shut up'...
---
Refugee Admissions Lowest in 15 Years; Proportion of Muslims Shrinking...
---
House unanimously passes proposal to speed deployment of self-driving cars...
Mankind at 'tipping point' as automation and AI begins to replace...
---
CATALONIA PARLIAMENT CLEARS WAY FOR INDEPENDENCE VOTE...
---
FACEBOOK accused of fake audience numbers...
Higher than census data...
---
UPDATE: Woman who forced Dali exhumation 'not his daughter'...
---
The Comfortable New Planes Airlines Think Customers Don't Want...
---
Mall theft ring accused of shoplifting $20M of high-end merch...
---
Fashion giants ban size zero models...
---
Christian Bale packs on pounds to play Dick Cheney...
---
Woman Slips Handcuffs, Takes Police SUV on 100-MPH Chase...
---
Man Kills Brother In Argument Over Internet Bandwidth...
---
<! L I N K S S E C O N D C O L U M N> 3 AM GIRLS
CINDY ADAMS
MIKE ALLEN
BAZ BAMIGBOYE
DAVE BARRY
FRED BARNES
MICHAEL BARONE
PAUL BEDARD
BIZARRE [SUN]
BRENT BOZELL
DAVID BROOKS
PAT BUCHANAN
HOWIE CARR
CERNOVICH
MONA CHAREN
CNN: RELIABLE SOURCES
[NY DAILY NEWS] CONFIDENTIAL
DAVID CORN
ANN COULTER
LOU DOBBS
MAUREEN DOWD
LARRY ELDER
JOSEPH FARAH
SUZANNE FIELDS
FISHBOWL, DC
FISHBOWL, NYC
ROGER FRIEDMAN
BILL GERTZ
JONAH GOLDBERG
GLENN GREENWALD
LLOYD GROVE
HANNITY
STEPHEN HAYES
HUGH HEWITT
KATIE HOPKINS
LAURA INGRAHAM
INSIDE BELTWAY
RICHARD JOHNSON
ALEX JONES
MICKEY KAUS
KEITH J. KELLY
KRAUTHAMMER
KRISTOF
KRISTOL
KRUGMAN
LARRY KUDLOW
HOWIE KURTZ
MARK LEVIN
DAVID LIMBAUGH
RUSH LIMBAUGH
RICH LOWRY
MICHELLE MALKIN
DANA MILBANK
PIERS MORGAN
DICK MORRIS
PEGGY NOONAN
PAGE SIX
ANDREA PEYSER
JIM PINKERTON
POLITICO MORNING MEDIA
POLITICO PLAYBOOK
BILL PRESS
WES PRUDEN
REX REED
RICHARD ROEPER
BETSY ROTHSTEIN
JIM RUTENBERG
MICHAEL SAVAGE
LIZ SMITH
BRIAN STELTER
MARK STEYN
ROGER STONE
TAKI THEODORACOPULOS
CAL THOMAS
BOB TYRRELL
TV NEWSER
JEFF WELLS
WASHINGTON WHISPERS
GEORGE WILL
WALTER WILLIAMS
BYRON YORK
BILL ZWECKER
---