<! SECOND COLUMN BEGINS HERE>
Trump to unveil Mideast peace proposal by early next year...
---
Future humans could live in underwater cities...
---
DEUTSCHE BANK could replace HALF company with ROBOTS...
---
RAND PAUL UPDATE: 6 Broken Ribs, Pleural Effusion...
ATTACKER POLITICALLY MOTIVATED?
---
Collusion question remains after first Mueller indictments...
---
After Night of Drinking, FBI Supervisor Wakes to Find Woman Stole His Gun...
---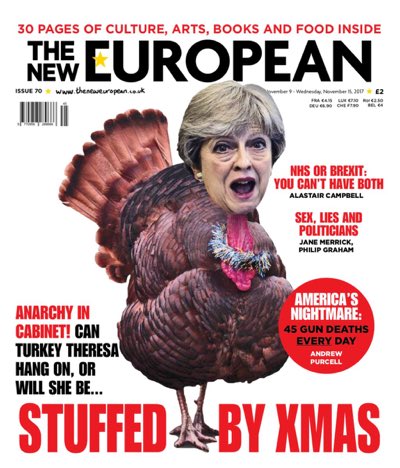 INSTABILITY AROUND MAY INTENSIFIES...
Clock ticks as Brexit talks resume...
---
Director of International Art Fair Accused of Sexual Harassment...
Spacey stripped from finished movie...
TV Anchor Says Kevin Assaulted Her Son...
Mariah Carey Accused...
Elite Media Harassment Scandal Widens...
---
TIME Plays Catch-up As Print Slowdown Dents Results...
---
Former FACEBOOK President Unloads on Social Network...

'Exploiting Vulnerability in Human Psychology'...
---
2,000-Year-Old Sundial Changes Perception of Ancient Rome...
---
How American Family Escaped From Amazon Pirates...
---
Hundreds of whales and dolphins slaughtered in horrifying hunt...
---
NASA spots 7,000mph whirlpool on sun...
---
Self-driving bus crashes two hours after launch in Vegas...
---
Take that, Miami: Pittsburgh now top retirement spot!
---
Surfer breaks back in wipeout as 50ft wave crashes down on him...
---
<! L I N K S S E C O N D C O L U M N> 3 AM GIRLS
CINDY ADAMS
MIKE ALLEN
BAZ BAMIGBOYE
DAVE BARRY
FRED BARNES
MICHAEL BARONE
PAUL BEDARD
BIZARRE [SUN]
BRENT BOZELL
DAVID BROOKS
PAT BUCHANAN
HOWIE CARR
CERNOVICH
MONA CHAREN
CNN: RELIABLE SOURCES
[NY DAILY NEWS] CONFIDENTIAL
DAVID CORN
ANN COULTER
LOU DOBBS
MAUREEN DOWD
LARRY ELDER
JOSEPH FARAH
SUZANNE FIELDS
FISHBOWL, DC
FISHBOWL, NYC
ROGER FRIEDMAN
BILL GERTZ
JONAH GOLDBERG
GLENN GREENWALD
LLOYD GROVE
HANNITY
VICTOR DAVIS HANSON
STEPHEN HAYES
HUGH HEWITT
KATIE HOPKINS
DAVID IGNATIUS
LAURA INGRAHAM
INSIDE BELTWAY
RICHARD JOHNSON
ALEX JONES
MICKEY KAUS
KEITH J. KELLY
KRAUTHAMMER
KRISTOF
KRISTOL
KRUGMAN
LARRY KUDLOW
HOWIE KURTZ
MARK LEVIN
DAVID LIMBAUGH
RUSH LIMBAUGH
RICH LOWRY
MICHELLE MALKIN
DANA MILBANK
PIERS MORGAN
DICK MORRIS
PEGGY NOONAN
PAGE SIX
ANDREA PEYSER
JIM PINKERTON
POLITICO MORNING MEDIA
POLITICO PLAYBOOK
BILL PRESS
WES PRUDEN
REX REED
RICHARD ROEPER
BETSY ROTHSTEIN
JIM RUTENBERG
MICHAEL SAVAGE
LIZ SMITH
BRIAN STELTER
MARK STEYN
ROGER STONE
TAKI THEODORACOPULOS
CAL THOMAS
BOB TYRRELL
TV NEWSER
JEFF WELLS
GEORGE WILL
WALTER WILLIAMS
BYRON YORK
BILL ZWECKER
---