<! SECOND COLUMN BEGINS HERE>
Students undergo 'disturbing sensory experiences' to drive out prejudice...
---
Obama to meet with world leaders...
---
Ivanka charms attendees of Indian tech summit...
---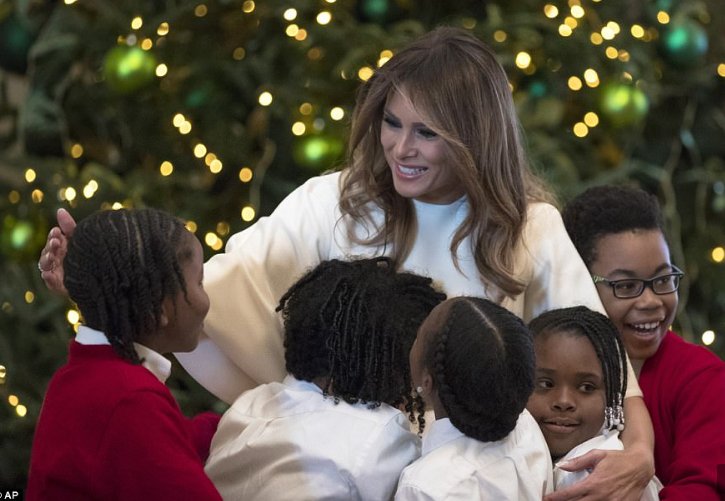 Melania Unveils First Trump Christmas White House!
VANITY UNFAIR: Rips report she didn't want to be first lady...
---
CNN fires back at Trump in day of rage...
---
Spielberg 'POST' praised in early reactions...
---
Sen. Warren Accuses President of 'Racial Slur' for Calling Her Pocahontas...
---
Conyers Accuser Asks Him To Lift Confidentiality...
Second ex-staffer claims sexual harassment...
---
PECKER TO BUY TIME MAG?
---
AMAZON WAREHOUSE OF HELL!
ROBOTS REPLACE EXHAUSTED HUMANS...
---
SOROS-FUNDED GROUPS CLAIM REPEALING 'NET NEUTRALITY' IS RACIST...
FCC Pai says children harassed...
Debate Rages Over FTC as Web Referee...
---
Jann Wenner fascinating enough for 500-page biography?
---
'VOYEUR' review: Gay Talese meets motel snooper...

Journalistic ethics, watching stranger sex...
---
FACEBOOK expands artificial intelligence to help prevent suicide...
---
Congress poised to jam through reauthorization of mass surveillance...
German spy agency hits out at Silicon Valley...
---
Tax-Hike Fears Fuel Talk of Exodus in NYC...
---
AL FRANKEN APOLOGY TOUR ON CAPITOL HILL...
Will 'Learn' From Mistakes He Does Not Remember...
Pelosi Enabling Sexual Predators For Decades...
---
PAPER: Good riddance to Lena Dunham...
---
Aaron Hernandez left hidden wealth for daughter before death...
---
Celebrity elephant kills owner...
---
Even sex in crisis in Venezuela...
---
<! L I N K S S E C O N D C O L U M N> 3 AM GIRLS
CINDY ADAMS
MIKE ALLEN
BAZ BAMIGBOYE
DAVE BARRY
FRED BARNES
MICHAEL BARONE
PAUL BEDARD
BIZARRE [SUN]
BRENT BOZELL
DAVID BROOKS
PAT BUCHANAN
HOWIE CARR
CERNOVICH
MONA CHAREN
CNN: RELIABLE SOURCES
[NY DAILY NEWS] CONFIDENTIAL
DAVID CORN
ANN COULTER
LOU DOBBS
MAUREEN DOWD
LARRY ELDER
AMBROSE EVANS-PRITCHARD...
JOSEPH FARAH
SUZANNE FIELDS
FISHBOWL, DC
FISHBOWL, NYC
ROGER FRIEDMAN
BILL GERTZ
JONAH GOLDBERG
GLENN GREENWALD
LLOYD GROVE
HANNITY
VICTOR DAVIS HANSON
STEPHEN HAYES
HUGH HEWITT
KATIE HOPKINS
DAVID IGNATIUS
LAURA INGRAHAM
INSIDE BELTWAY
RICHARD JOHNSON
ALEX JONES
MICKEY KAUS
KEITH J. KELLY
KRAUTHAMMER
KRISTOF
KRISTOL
KRUGMAN
LARRY KUDLOW
HOWIE KURTZ
MARK LEVIN
DAVID LIMBAUGH
RUSH LIMBAUGH
RICH LOWRY
MICHELLE MALKIN
DANA MILBANK
PIERS MORGAN
DICK MORRIS
PEGGY NOONAN
PAGE SIX
ANDREA PEYSER
JIM PINKERTON
POLITICO MORNING MEDIA
POLITICO PLAYBOOK
BILL PRESS
WES PRUDEN
REX REED
RICHARD ROEPER
BETSY ROTHSTEIN
JIM RUTENBERG
MICHAEL SAVAGE
LIZ SMITH
BRIAN STELTER
MARK STEYN
ROGER STONE
TAKI THEODORACOPULOS
CAL THOMAS
BOB TYRRELL
TV NEWSER
JEFF WELLS
GEORGE WILL
WALTER WILLIAMS
BYRON YORK
BILL ZWECKER
---