<! SECOND COLUMN BEGINS HERE>
Israel Strikes Iranian Targets in Syria as Regional Tensions Mount...
70 Missiles Rain Down...
Jerusalem embassy inauguration set for Monday...
Hamas Gaza head gives support for protesters to breach fence...
Saudi tests siren after Yemen rebels fire new missiles...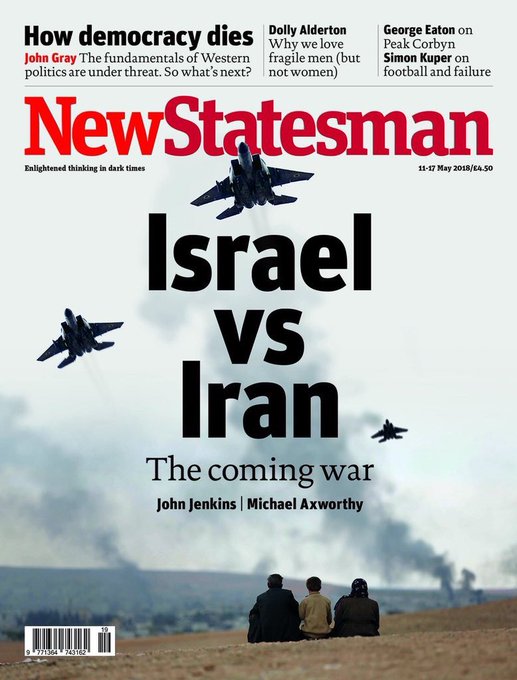 EUROPE HITS BACK AT USA OVER THREAT OF SANCTIONS...
---
Federal Budget SURPLUS Largest April on Record...
DOW turns positive for year...
Wall Street 'fear index' drops...
---
CHENEY: CHINA 'MOST SERIOUS' THREAT...
Says Revive Enhanced Interrogation...
---
Damage to NKorea Nuke Test Site Worse Than Thought...
---
Half of all Americans now live in 'sanctuaries' protecting illegals...
DHS requesting 700 more troops...
Father arrested at gunpoint by ICE officers with riot shield...
DC area chilled by gruesome 'random' MS-13 murder...
---
Young mom was massive meth cell CEO, prosecutors say...
---
CITY OF HATE: Attack Outside Yeshiva. 'What Are You Looking At Jew Boy?'
---
Lagerfeld may drop German citizenship over migrant welcome...
---
ROLLS-ROYCE Debuts $325,000 SUV...
---
Mail sent to UPS headquarters rerouted to Chicago apt...
---
'My dog shot me': Man blames pooch...
Strays in India have mysteriously started killing children...
Woman mauled by pack of pitbulls who 'chewed on her for 40 minutes'...
Man charged with making videos of his dog killing other animals...
---
Student strips during presentation to protest prof...
---
Fatal falls on rise for senior citizens...
---
<! L I N K S S E C O N D C O L U M N> 3 AM GIRLS
CINDY ADAMS
MIKE ALLEN
BAZ BAMIGBOYE
DAVE BARRY
FRED BARNES
MICHAEL BARONE
PAUL BEDARD
BIZARRE [SUN]
BRENT BOZELL
DAVID BROOKS
PAT BUCHANAN
DYLAN BYERS
HOWIE CARR
CERNOVICH
MONA CHAREN
CNN: RELIABLE SOURCES
[NY DAILY NEWS] CONFIDENTIAL
DAVID CORN
ANN COULTER
LOU DOBBS
MAUREEN DOWD
LARRY ELDER
AMBROSE EVANS-PRITCHARD
JOSEPH FARAH
SUZANNE FIELDS
FISHBOWL, DC
FISHBOWL, NYC
ROGER FRIEDMAN
BILL GERTZ
JONAH GOLDBERG
GLENN GREENWALD
LLOYD GROVE
HANNITY
VICTOR DAVIS HANSON
STEPHEN HAYES
HUGH HEWITT
KATIE HOPKINS
DAVID IGNATIUS
LAURA INGRAHAM
INSIDE BELTWAY
RICHARD JOHNSON
ALEX JONES
MICKEY KAUS
KEITH J. KELLY
KRAUTHAMMER
KRISTOF
KRISTOL
KRUGMAN
LARRY KUDLOW
HOWIE KURTZ
MARK LEVIN
DAVID LIMBAUGH
RUSH LIMBAUGH
RICH LOWRY
MICHELLE MALKIN
DANA MILBANK
PIERS MORGAN
DICK MORRIS
PEGGY NOONAN
PAGE SIX
ANDREA PEYSER
JIM PINKERTON
POLITICO MORNING MEDIA
POLITICO PLAYBOOK
BILL PRESS
WES PRUDEN
REX REED
RICHARD ROEPER
BETSY ROTHSTEIN
JIM RUTENBERG
MICHAEL SAVAGE
BRIAN STELTER
MARK STEYN
ROGER STONE
TAKI THEODORACOPULOS
CAL THOMAS
BOB TYRRELL
TV NEWSER
JEFF WELLS
GEORGE WILL
WALTER WILLIAMS
BYRON YORK
BILL ZWECKER
---